Print Collateral, Marketing & Sales Materials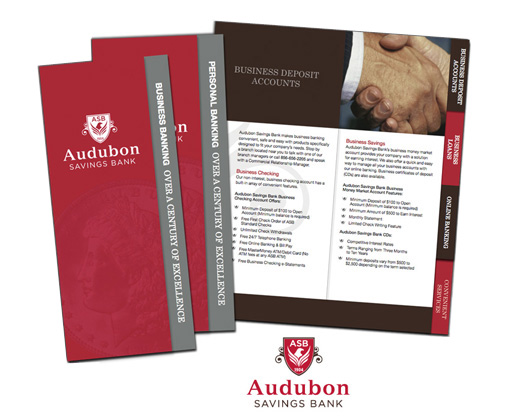 Adamus® offers clients a wide range of design for print services including branding, concept development, design & art direction, content development & editing, campaign planning, execution and management.
Over the years our agency has worked extensively with:

- Universities, colleges, charter and private schools, school districts and private educational institutions to deliver a wide variety of printed materials, among them: university enrollment catalogs, school & sports team brochures, university & school branded books, campus event mailers, posters, banners, campus maps & informational brochures and more.

- Banks & financial institutions delivering: business banking and personal banking brochures, stationary & folders, in-branch promotional posters, customer handouts, banking direct mail advertisements, tradeshow promotional materials and more.

- Medical clinics, university hospitals, post surgery rehabilitation centers, senior living communities, doctors' offices including dentistry, specialty medicine, chiropractic medicine delivering: patient brochures & forms, facility informational books, folders and stationary, practice marketing materials, direct mailers with open house, new location announcements and more.

Let Adamus help you launch your next big idea.

Get Started Now

Adamus® design services include:
Corporate ID and branding
Photography, imaging and illustration
Copywriting and editing
Print design, layout and art direction
Direct mail advertising
Trade show displays and design for large format printing
Outdoor display (banners, posters, mass transit and billboard design)
Print production management
Ready to Get Started?
Talk to one of our marketing experts today! We would love to hear from you. Call: 941.242.9511 or complete this online form. For RFPs or RFQs please send email to info@adamusmedia.com.
Contact Us Today